I know that some Republicans in the legislature have been pilloried for their support of Gov. Bob Riley's 2003 Amendment One proposal. A Republican governor proposed it and pushed for it, and the proposed amendment required a vote of the people to be enacted. Should the legislators have voted against giving the citizenry an opportunity to have its say on this proposal from its newly elected Governor?
Here's another ad saying yes to that question: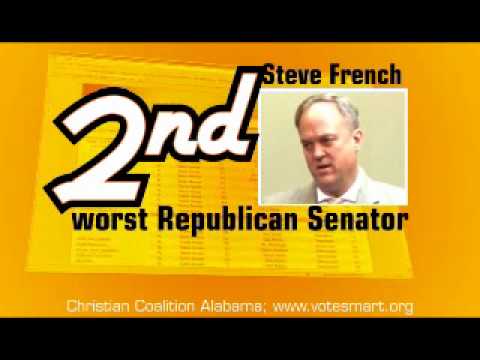 The ad says, "Steve French's liberal tax-raising record is so bad the Christian Coalition ranked him the second worst Republican Senator." If you check out the Christian Coalition ratings of legislators at votesmart.org (ratings for 2003-2006 are the most recent available) as cited in the ad, you'll find that the only GOP Senator with a lower ranking than French is state GOP Finance Chairman Del Marsh. Is anyone questioning Marsh's conservative bona fides? Marsh's rating on the list is 71, French is 75, and Republican state Senator Larry Dixon is 76.
The site truthaboutstevefrench.com has more and provides links to the sources used to provide a basis for its claims. Kudos for that.
Blackwell is running this second ad as well: